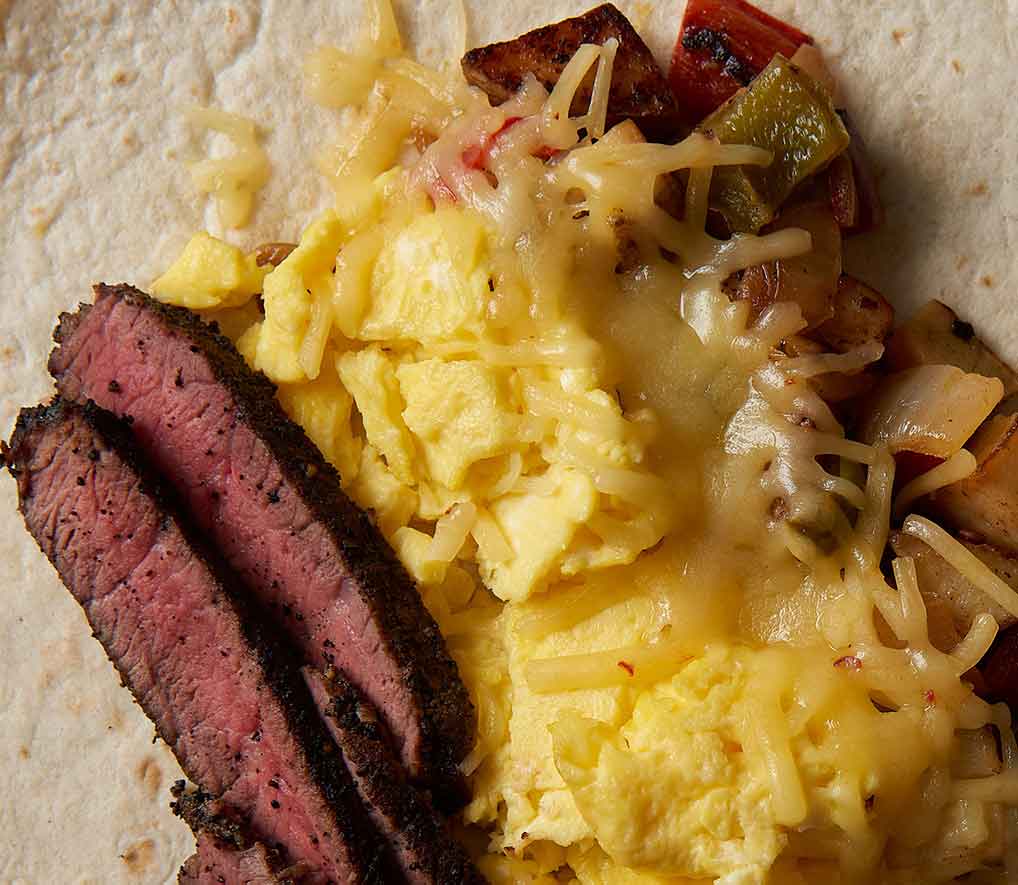 Ingredients
2 tablespoons light roast ground coffee

 

1 teaspoon paprika

 

1 tablespoon kosher salt

 

8 ounces (3/4-inch thick) boneless sirloin beef steak

 

¼ cup butter

 

1 medium russet potato, cut into 1-inch pieces

 

1 green bell pepper, cut into 1-inch pieces

 

1 red bell pepper, cut into 1-inch pieces

 

½ medium red onion, chopped

 

2 tablespoons vegetable oil

 

¼ cup Oak Farms milk

4 eggs

 

1 cup (4-ounces) shredded pepper jack cheese

 

4 large flour tortillas

 
How to
In small bowl stir together ground coffee, paprika and salt.  Rub mixture on both sides of steak; set aside.

 

In 10-inch skillet melt 2 tablespoons butter over medium heat.  Add potatoes, stirring to coat all potatoes with butter.  Cover; let cook, stirring once, 5 minutes.  Remove cover; add green pepper, red pepper and onion.  Stir to coat; continue cooking until potatoes are fork tender and onion are translucent (8 to 10 minutes).  Remove from skillet; keep warm.  

 

In same skillet heat oil over high heat; place steak in hot skillet to sear 3 minutes.  Turn; sear other side until cooked to desired doneness (3 minutes for medium or 145°F).  Remove steak from skillet; let rest.

 

Carefully wipe out skillet with paper towel; add remaining 2 tablespoons butter.  Cook over medium low heat until melted.  In medium bowl beat together milk and eggs; add to skillet.  Continue cooking,

 

gently lifting and stirring slightly with spatula to allow uncooked portion to flow underneath, 2 to 4 minutes or until almost set.  Remove from heat.

 

To assemble burritos, slice steak across grain.  Lay tortillas on clean surface.  Place equal parts potatoes, sliced steak, eggs and cheese on each tortilla.  Roll up by folding in sides and top of tortillas; pull top and filling toward you before rolling tightly.

 
 Tip:  Prepared tortillas can be wrapped in paper towels and placed in zip-top food safe bag.  Freeze for up to 1 month.  To reheat, place paper towel wrapped burrito on microwave safe plate; microwave 3 minutes.  Let stand 1 minute before removing paper towel. 
Recipe and image provided by Half & Half magazine.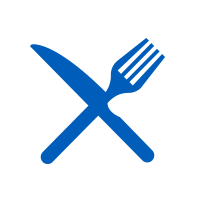 Other Recipes You Might Like